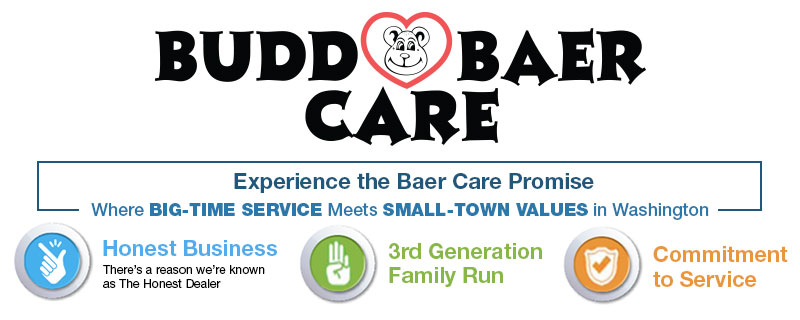 Reservation must be made in advance of your service appointment. Available on a first come, first serve basis.

Free exterior car wash with every service visit. Car wash for express service visit available by request.

Free Pennsylvania State Safety Inspections available for the lifetime of any new or pre-owned vehicle.

By appointment only. Service dept. will have a qualified technician perform a multi-point inspection to ensure your vehicle remains running safely.

Includes complimentary oil, filter, labor, and disposal fees for the first year of ownership. Max. of 1 oil change. 

Applies only to the purchase of a new vehicle.



---
What Can Baer Care Rewards Do for You?
If we asked you what the best part of driving a Mazda from Budd Baer Mazda, what would you say? Would it be the unbelievable quality and features of our Mazda selection? Perhaps you are a fan of the great customer service you get when you visit. One thing that sets our Mazda service apart from others in Pennsylvania is the Budd Baer Care program. This is something you won't find anywhere else, and it just another way to enjoy your Mazda.
The Budd Baer Care program is our promise to you, so you can get the most out of driving one of our new or used cars for sale. We take all of the outside elements of driving your car, and make it more enjoyable for you. Drive your way toward free car washes, safety inspections, and even oil changes. You save instantly, simply by signing up for this rewards program. With every swipe you can earn gift cards toward parts and service. You can even qualify for unlimited discounts at many of the local business in Washington, PA.
Drive and Earn
Budd Baer Care Rewards are another way for our customers to enjoy every mile they drive their new Mazda. This is our commitment to help those customers dedicated to Budd Baer Mazda. From Collision Assistance to Complimentary Roadside Assistance, each visit to Budd Baer Mazda gets you closer to another reward. Whether you are in the market for a new Mazda car or crossover, or are already enjoying your Mazda, don't forget to sign up for this exclusive club. Membership has its privileges at Budd Baer Mazda.  It truly might be the best way to get the most out of your vehicle.